The Complete Birthday Party Experience that your child will never forget
Wouldn't it be amazing to give your child the birthday party they deserve? A party focused on their needs – if they're easily overwhelmed, then entertained with patience, care and respect, and if they're super-confident, empowering them by letting them lead the party. Finding someone that can do that for you is hard and frustrating. We just want to give our little ones a brilliant birthday party. Right?
Well now you can, if you live in Essex, Suffolk, Cambs or Herts. Magic Iain will keep your child immersed in the experience. I'll lead them through the party if they're a little shy, or let them call the shots if they're already a party professional! Either way – you win!
Learn more about Magic Iain's birthday party framework that has been perfected over 1000s of shows by clicking the button below.
Complete Birthday Parties for ages 3-7
The most complete solution for a birthday party in a local hall. Including host Magic Iain, music, games, activities and the magic show
All you'll need to do is:
Organise the food & party bags
Arrange the birthday cake
Then sit back and relax until the day of the party!
Question: Does the show include Charlie the Chimpanzee puppet who much prefers listening to the children and making them laugh than listening to Magic Iain?
Answer: Yes it does. Children love Charlie and I'm sure your little one will too 🙂

Pre-School/Nursery Magic Show for ages 2-4
You run a busy Early Years setting and need my DBS check, public liability insurance certificate and maybe even a risk assessment before you make a decision.
Good news! Everything you need to verify is available – just click the button below to let me know what you need.
The children will love this in the preschool magic show: they do all the magic! With a completely interactive show, they're engaged from start to finish. They'll talk about it for days afterwards.
You might ask yourself – won't a party entertainer be a bit much for preschool children?
Here is what Magic Iain does to make sure all the children are engaged, especially at nurseries and preschools:
Pace – each child and even each group of children has a different level of shyness, language skills and patience. Magic Iain identifies these and when he finds the parts in the show that captivate everyone, extends them on the spot
Storytelling – when the children understand the simple yet hilarious plots of the magic tricks, they become personally involved and engaged (especially when the magic wand keeps going up when Magic Iain isn't looking!)
Safe – the show is 100% clean and is not too loud. The kids will laugh and laugh again. At the end of their session… after spending so much energy during the show, they'll go home happy, telling their parents all about what a fantastic time they've had
That, and more, is what you get when you work with Magic Iain
Click the button below to get the complete pack with the additional information you need.

Interactive Workshops for ages 8-14
When you are looking for activities for your Scouting events, or have a party with a mix of ages, one of the biggest problems is the age gap of the kids.
We have all been there. As a 13-14 year old, you don't want to be seen laughing about a magic trick or joke that a "little kid" aged 8 loves.
The solution is a workshop – colourful, engaging, inclusive and great for mixed ages and abilities.
Pick one of the following successful proven-to-work workshops:
Magic – imagine every child gets to learn 3-6 tricks and have a chance to fool their grown-ups
Balloon Twisting – imagine everyone learning to twist 4 different balloon sculptures and get to take 10 balloons home
Circus Skills – imagine the children surrounded by diablos, spinning plates, juggling clubs and lots of other equipment and be guided through how to execute the moves while they experiment at each 'station'
A workshop makes a memorable activity to add to your programme of events, and the finale picture of all the kids having a great time together will help you prove without a shadow of a doubt that your event, group or organisation rocks.

FOUR great reasons to pick Magic Iain

FUN FOR YOU
With Magic Iain taking care of the entertainment, you'll be having the best time too, enjoying watching your child dancing to Chu Chu Wah, Baby Shark or other popular hits with their friends!
FLEXIBILITY
Specific music requests can be made ahead of time, so you can make sure your child's favourites are played, making the party truly theirs. Anything goes here – I've had requests for Elton John, Bob Marley and even Eminem in the past!
COMPLIMENTS
The children will be totally engaged with Magic Iain's interactive magic show, so all the grown-ups will be able to relax, chat, drink their tea and be mesmerised by the kids' responses. You'll get the nicest thank you messages after the party (expect text message galore as early as that evening).
THE STAR
The birthday child will be Magic Iain's main focus. They'll be the first choice for everything – first pick for parachute games, choosing which statues we freeze as, picking magic words… It's in every moment of the show. And if they want they can help with some of the magic tricks too. Sometimes it's nice to be fair and give everyone the chance, but come on, it's their birthday! They deserve the best birthday party ever!
The Real Secret to a Brilliant Birthday Party
A brilliant child's birthday party isn't about the venue, the perfect balloon colour, the Frozen or Paw Patrol tableware, the music or even the magic show.
Hey… It's not even about the cake.
It's about paying attention to the birthday child and giving them THE BEST TIME.
And for each child that means something totally different.
So what do we do?
We listen. Together – as a team.
Maybe that's why hundreds of Mums and Dads all over East Anglia have given their children exactly that.
Trust Magic Iain with your party just like hundreds have already done over the last ten years.
Hurry and book the show now, before your ideal date has gone.
Book Magic Iain knowing your child's party will be one to remember.
Here are some of the thank you notes I've been lucky enough to receive over the years.
Sheona Scales

Royston
"Thank you for such an amazing birthday party on Saturday…
I did school drop off Wednesday and the mums were still talking about how much the children enjoyed it."
Clare Page

Stoke-by-Nayland
"It really couldn't have gone better… the adults seemed
to enjoy it just as much as
the kids!."
Rachel Sheridan

Brightlingsea
"I've lost count of the number
of parents who came up to me afterwards to say what a great time their little ones' had and
how funny and professional
you were."
Organising your child's big birthday party for around 30 children is something you only do a few times. To throw them a brilliant party can be a daunting task. I know as I have been there myself with my own two (born 2019 and 2015).
So many tasks to take care of. Setting up the hall… food, drinks and also birthday cake. And then there is the entertainment. It's so much work. And it needn't be. Choosing the hall or what drinks to bring is easy – there are typically only a few options.
Your child has probably already asked for a specific cake, maybe their favourite Disney character, superhero, dinosaur or butterfly.
Choosing an entertainer is the hardest bit, isn't it? Not now.
Here is what you will get by choosing Magic Iain:
Hiring a full-time children's entertainer means you are choosing someone that's already been trusted by hundreds of mums and dads every year. As a professional games-leader, party-host and miracle-maker, Magic Iain has been performing for parties since 2010, so you can say goodbye to your worries

When you get a group of children together you get the opportunity to see the wonder of how they interact as a group, especially with a little help and guidance from their entertainer. It's perhaps the most magical thing that happens at parties. Let Magic Iain transform your kids' friends into a group of mesmerised, belly laughing and completely engaged children

Some children would be happy if their party was just loud music, balloons and plenty of sugar. But not on your watch – and not on Magic Iain's watch either! This party is going to include some seriously fun games, the best songs, dancing and an interactive and magical magic show specifically crafted to amaze and amuse children. There are no embarrassing moments for any adults – everyone will enjoy a great party.

Usually what people tell Magic Iain at the end of a party or in a text or email once the little ones are in bed is – it was perfect, and we got lots of compliments from other parents that said they and their kids loved every moment of it. That is high praise indeed.
Book an entertainer that easily builds fantastic rapport with children and has done so for over ten years hosting brilliant birthday parties.
Booking Magic Iain is as Easy as 1-2-3
Check For Availability
Contact Magic Iain and make sure he is available on the date of your event
Make sure you have a suitable venue available on the that date (could even be inside your home)
Grab a cup of tea
You are about to have a Brilliant Party. The hardest part is behind you. Magic Iain will take care of all your entertainment needs
The air is full of laughter at a Magic Iain party, so you can relax knowing your child is having the best party ever.
Two Ways to Treat Your Customers or Employees To Something Special
Make your guests and staff feel valued by giving them some wholesome, laugh-out-loud entertainment. See your Tripadvisor score rise or make your annual staff event the best ever!
Family
Magic Show
Don't let your entertainment programme be a yawn-fest for anyone. Magic Iain's Family Magic Show is clean (even for the grandparents), interactive (for the children), and totally engaging (for the parents), so you can be sure guests of all ages are having a great time while they're with you.
Here are just a few examples of shareable memories your valued guests will take from the Family Magic Show:
The reaction when a 4-year-old volunteer makes the magic happen in her own hands, one rabbit becomes two, then seven! Her delighted face – CLICK. Memory created.
The joy in an 8-year-old volunteer's face when he gets to hit Magic Iain on the head with his inflatable wand… Priceless. CLICK – another memorable picture.
The part where EVERYONE in the audience screams as they see the silver magic wand moving but Magic Iain doesn't. CLICK – everyone having fun as a group.
Magic and Balloons for Queues
Queueing is a fact of life (especially here in the UK where we're really good at it!). Wouldn't it be wonderful if your queues of families were entertained while waiting instead of bored? Let Magic Iain provide a distraction from the restlessness with:
Smiles and laughter as things look like they're going wrong but of course they turn out right in the end
Interaction as the families do all the magic themselves, making miracles and memories
Colourful balloon models of unicorns, dinosaurs, butterflies and even hats for the dads!
Let's discuss what will be the perfect fit for your customers or even staff
so you can create more memories they'll talk about.
Magic Iain is registered with the live DBS Update service
Public Liability Insurance to the value of £10million, certificate presented at request
PA equipment options are available, if you need some extra oomph
As seen at these family favourites:
Book Magic Iain knowing your child's party will be one to remember.
Here are some of the thank you notes I've been lucky enough to receive over the years.
Thank you so much for making William's 6th birthday so memorable.
You brought out the best in him today. He said it was "the best day of his life!
People have told me it's "the best party they've ever been to" and that
"Magic Iain was so funny, they think they enjoyed the party as much,
if not more than the children."
The way you remembered everyone's name was remarkable and added a personal touch. This really was a party that will be remembered by all for a long time. Thank you.
I look forward to booking you again when my twins are 5!
The fun, smiles and laughter never stop when
Magic

Iain

is around, so you can sit back and enjoy the show too!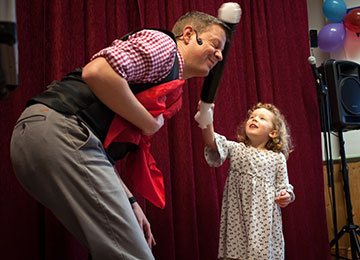 Give your child a brilliant birthday party
Contact Magic Iain Now