The Complete Birthday Party Experience that your child will never forget
Wouldn't it be amazing to give your child the birthday party they deserve? A party focused on their needs – if they're easily overwhelmed, then entertained with patience, care and respect, and if they're super-confident, empowering them by letting them lead the party. Finding someone that can do that for you is hard and frustrating.We just want to give our little ones a brilliant birthday party. Right?
Learn more about Magic Iain's birthday party framework that has been perfected over 1000s of shows by clicking the button below.
Complete Birthday Parties for ages 3-7
The most complete solution for a birthday party in a local hall. Including host Magic Iain, music, games, activities and the magic show.
Pre-School/Nursery Magic Show for ages 2-4
You run a busy Early Years setting and need my DBS check, public liability insurance certificate and maybe even a risk assessment before you make a decision.
Interactive Workshops for ages 8-14
When you are looking for activities for your Scouting events, or have a party with a mix of ages, one of the biggest problems is the age gap of the kids.
FOUR great reasons to pick Magic Iain

FUN FOR YOU
With Magic Iain taking care of the entertainment, you'll be having the best time too, enjoying watching your child dancing to Chu Chu Wah, Baby Shark or other popular hits with their friends!
FLEXIBILITY
Specific music requests can be made ahead of time, so you can make sure your child's favourites are played, making the party truly theirs.
COMPLIMENTS
The children will be totally engaged with Magic Iain's interactive magic show, so all the grown-ups will be able to relax, chat, drink their tea and be mesmerised by the kids' responses.
THE STAR
The birthday child will be Magic Iain's
main focus. They'll be the first choice for everything – first pick for parachute games, choosing which statues we freeze as, picking magic words…
The Real Secret to a Brilliant Birthday Party
A brilliant child's birthday party isn't about the venue, the perfect balloon colour, the Frozen or Paw Patrol tableware, the music or even the magic show. Hey… It's not even about the cake. It's about paying attention to the birthday child and giving them THE BEST TIME.
And for each child that means something totally different. So what do we do?
We listen. Together – as a team.
Maybe that's why hundreds of Mums and Dads all over East Anglia have given their children exactly that. Trust Magic Iain with your party just like hundreds have already done over the last ten years.
Hurry and book the show now, before your ideal date has gone.
Book Magic Iain knowing your child's party will be one to remember.
Here are some of the thank you notes I've been lucky enough to receive over the years.
Sheona Scales

Royston
"Thank you for such an amazing birthday party on Saturday…
I did school drop off Wednesday and the mums were still talking about how much the children enjoyed it."
Clare Page

Stoke-by-Nayland
"It really couldn't have gone better… the adults seemed
to enjoy it just as much as
the kids!."
Rachel Sheridan

Brightlingsea
"I've lost count of the number
of parents who came up to me afterwards to say what a great time their little ones' had and
how funny and professional
you were."
Organising your child's big birthday party for around 30 children is something you only do a few times. To throw them a brilliant party can be a daunting task.I know as I have been there myself with my own two (born 2019 and 2015).
So many tasks to take care of. Setting up the hall… food, drinks and also birthday cake. And then there is the entertainment.
It's so much work. And it needn't be.
Here is what you will get by choosing Magic Iain:
P

REASSURANCE

P

CAPTIVATED CHILDREN

P

A COMPLETE EXPERIENCE

P

GUEST FEEDBACK
Book an entertainer that easily builds fantastic rapport with children and has done so for over ten years hosting brilliant birthday parties.
Booking Magic Iain is as Easy as 1-2-3
step 1
Book
Your Venue
Make sure you have a suitable
venue available on the that date
(could even be inside your home)
step 3
Two Ways to Treat Your Customers or Employees To Something Special
Family
Magic Show
Don't let your entertainment programme be a yawn-fest for anyone. Magic Iain's Family Magic Show is clean (even for the grandparents), interactive (for the children), and totally engaging (for the parents), so you can be sure guests of all ages are having a great time while they're with you.
Magic and Balloons for Queues
Queueing is a fact of life (especially here in the UK where we're really good at it!). Wouldn't it be wonderful if your queues of families were entertained while waiting instead of bored?
Let's discuss what will be the perfect fit for your customers or even staff
so you can create more memories they'll talk about.
Magic Iain is registered with the live DBS Update service
Public Liability Insurance to the value of £10million, certificate presented at request
PA equipment options are available, if you need some extra oomph
As seen at these family favourites:
Book Magic Iain knowing your child's party will be one to remember.
Here are some of the thank you notes I've been lucky enough to receive over the years.
Thank you so much for making William's 6th birthday so memorable.
You brought out the best in him today. He said it was "the best day of his life!
People have told me it's "the best party they've ever been to" and that
"Magic Iain was so funny, they think they enjoyed the party as much,
if not more than the children."
The way you remembered everyone's name was remarkable and added a personal touch. This really was a party that will be remembered by all for a long time. Thank you.
I look forward to booking you again when my twins are 5!
The fun, smiles and laughter never stop when
Magic

Iain

is around, so you can sit back and enjoy the show too!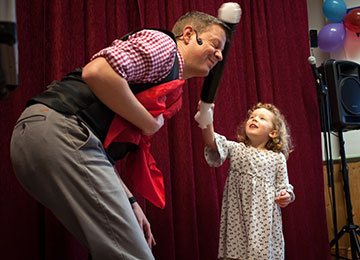 Fill up this form NOW and Maic Iain will get back to you within 24 hours.